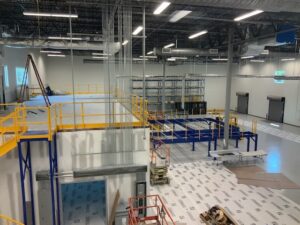 A Construction Manager is critical to the success of a construction project. Their value is magnified even more with the Commercial Real Estate market as hot as it is currently. Construction managers supervise the project from conception to completion while managing and integrating all team members, including designers, architects, engineers, contractors, and many other vendors that are unique to each and every project. A dedicated and experienced Construction Manager is crucial to ensure accurate planning and milestone setting are properly initiated on the front end to avoid costly delays. Here are four areas where a construction management plan will set your project up for success.
1. Selecting the Right Team – You may have architects, engineers, or General Contractors in your network, but the question is, are they well-matched for your specific project? While the final decision may come down to price, it is important to make your decision based on equivalent services and materials. You can accomplish this by clearly defining the scope of work detailed in a formal Request for Proposal (RFP). At Relofant, we begin every project with a deep dive into the necessary project requirements and translate them into clearly defined RFP parameters. Soliciting detailed RFPs allows for 'apple to apple' comparisons and lays the foundation for selecting the appropriate team for the job effectively.
2. Managing the Process – Managing a relocation or renovation is never as simple as it may look. Do you know how many months the average project will take? There are many, many steps between creating a schematic plan and receiving a certificate of occupancy. Depending on the size of the project, this typically takes anywhere from 6 to 18 months. By clearly identifying milestones on the project timeline and managing the schedule weekly, we can keep all parties involved in the loop, hold project team members to task, and ensure we are on track to achieve a certificate of occupancy by the expected completion date.
3. Leading through the Unknowns – Without fail, every project will experience some unforeseen challenges. These challenges need to be evaluated quickly and addressed head-on. Negative impacts to the project schedule and budget can be avoided if the team works together to identify the root issue and create a resolution. At Relofant, our Risk Management strategy and formal Stakeholder Communications create a team-centric environment that puts your project on a trajectory to be completed on time and within budget –– even when the unknown complications creep into the project.
4. Providing the Full Picture – Simply stated, a construction project is complicated. In addition to the obvious tasks, there are many "owner's items" that architects, engineers, and general contractors do not typically handle. Components like low voltage systems, server room hardware, audio visual and video conferencing solutions, interior and exterior signage, furniture systems, medical gas, compressed air, nitrogen, reverse osmosis plumbing, and many others are often out of the traditional scope of work. They are considered owners items, and if the owner neglects to manage them on time, the project is at risk for costly delays. Relofant has unmatched expertise in managing Full Scope Relocation Projects, meaning we effectively lead construction projects by identifying ALL of the critical path dependencies early in the planning phase.